This'll Never Work: How a Pessimist Beat Brain Cancer
June 23, 2017
Community News
Lots of people experience a mid-life crisis, but mine was a doozy. At 55 years old, in October of 2008, I was diagnosed with a rare and deadly brain tumor. I got my first symptom – a burning hot left foot — on the day my daughter Allison gave birth to my first grandchild. A week later I was in a wheelchair and wearing an eye patch to stop my double vision.
I prayed to God to give me a second chance, did what the doctors told me, but NEVER believed that I would live to see my grandson take his first steps. When my tumors finally went into remission, I was given only a 20% chance of surviving five years without a recurrence.
When brain cancer was wreaking havoc in my thalamus and right frontal lobe, my mind was muddled and my spirit crushed. But as the chemo began to do its thing, I started reading books – a slew of them – all on the same topic: coping with cancer. Some of them helped and some made me pull the covers over my head and cry. One of my favorites was Kris Carr's Crazy Sexy Cancer Survivor, which actually gave me a laugh or two.
My book, This'll Never Work: How a Pessimist Beat Brain Cancer, chronicles my story with humor but also authenticity. I was not a positive thinker and I didn't "stand up to cancer" — I cowered from it. But I found a hero – Dr. Andrew Norden of the Dana-Farber Cancer Institute, and...SPOILER ALERT... I survived.
During my illness, I learned some lessons, and I share them with my readers. Simple things like "Don't wear a Johnny – it'll make you look sick" or "Keep the curtain closed between you and your roommate until you know if she plans to kill you." Or, in all seriousness, "Find a support group. These people will help you, and you will help them."
My name is Marie Fricker. I am an editor and head writer for the marketing department of the 36-office Jack Conway Real Estate Company in the Greater Boston area. I live in Scituate, Massachusetts where I spend my spare time dodging babysitting duties for the four flying monkeys who are my grandkids.
Dr. Norden, and I were invited to share our story on WBZ radio on Monday, March 28. As the exclusive studio guests of well-known talk show host Dan Rea, we discussed my upcoming book to listeners in 38 U.S. states. You can listen to a recording at http://boston.cbslocal.com/2016/03/28/nightside-surviving-brain-cancer/.
I believe my story will give other cancer patients - either newly diagnosed or in the trenches of the battle - hope, practical strategies, and maybe even a laugh or two. The book will also appeal to anyone who wants to read about surviving against the odds— even without a positive attitude.
This article was written by Marie Fricker: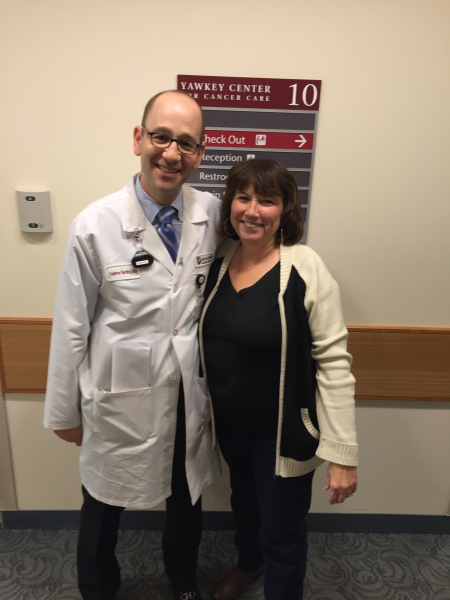 Marie Fricker is a head writer for the 36-office Jack Conway Real Estate Company based in Norwell, Massachusetts. She is a freelance writer who has had feature articles published in Boston Magazine and many other publications throughout New England. She was a longtime contributor to theSouth Shore Senior News writing a humorous column entitled "Motherhood the Second Time Around."
In her previous position as a marketing director for Jack Conway & Co., she won five international communications awards for a video documentary she wrote and produced entitled The House that Jack Built.
Born and raised in Arlington, Marie earned a bachelor's degree in English, Magna Cum Laude, from U. Mass. Boston, and a master's degree in journalism from Boston University. She lives in Scituate with her husband Al. They have two children, Allison, a Dedham Public Schools literacy specialist and Jason, a Rockland firefighter and paramedic, and nearly five grandchildren - Ben, Will, Christian, Olivia and soon-to-be Sam.