Atul Gawande's "Being Mortal: Medicine and What Matters in the End" gives you a roadmap for how to navigate one of the most sensitive, important, and often ignored subjects: end of life care. Through personal anecdotes and medical studies, he talks about different options for care and the way those options have changed over time. Gawande spends a lot of time on how patient communication has changed. One of the primary takeaways is to ask the questions: What are your priorities? What makes life worthwhile to you?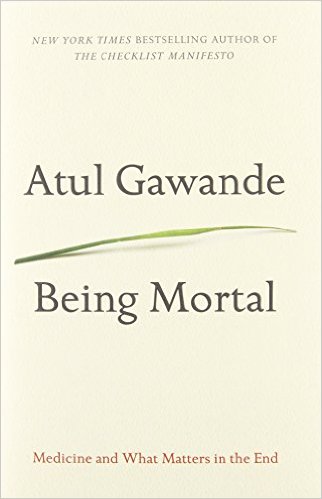 Answers like being able to eat chocolate ice cream and watch football, or being able to sit at the dinner table, shape how end of life care is evolving for individuals and institutions. Gawande stresses the importance of asking these questions continuously as priorities change. When patients are clear on what is important to them, decisions at difficult times become easier. Gawande guides us through topics that can be considered taboo and empowers us to make our lives what we want them to be, all the way until the end of life.
"Being Mortal" is a must read for anyone interested in advocating for themselves and their loved ones. Take a moment think and share with your loved ones, what is important to you? At Wellist, we decided to ask ourselves that very question. Here's what we have to say...
What makes my life worthwhile is enjoying the company of those I'm with, seeing my kids become people, feeling productive, and eating delicious food, especially ice cream. – Susan
My priorities are to be able to go outside, and to speak, sing, chortle, and connect with those I love. – Emily
I need to be able to have meaningful conversations with those I care about and feel mentally stimulated. – Lucy
Building meaningful and lasting relationships and spending time outside. – Amanda C.
What makes my life worth living for me is connecting with loved ones, feeling like I am positively impacting the lives of others, my ability to exercise and challenge myself physically, and being outdoors, especially the feeling and the smell of the ocean air. Also peanut butter. – Mary
Being able to communicate with my loved ones is a top priority. Whether that's via sign language, verbally, written...if I couldn't do that I don't think I could be happy. Other priorities include reading and being able to create something. – Sam
Watching my sons discover and enjoy new things makes my life worthwhile, as does a nice porterhouse on the grill on the back deck on a not-too-hot summer day. The one-in-twenty serve I have in tennis is a really juicy feeling, too. Most relevant lately is the chance to use my engineering skills to try and help people. That's a great feeling of "life is worthwhile" every morning that I haven't always had. I also enjoy a good laugh and saying irreverent things. – Bill
Being able to have a long conversation with friends over a good meal. – Dave
The infinitesimally small moments of connections that make up an hour, a day, a life...Invitations to another "new game" of Words with Friends with Grinny. Infinite Boo Boo kisses to make it all better. The full body wag of your favorite black lab. And of course, Bagel Wednesdays. - Ashley
Being able to explore the world and people around me, both by reading and through physical means, is very important to me. - Dan
Connecting to people around me makes my life so full of worth. I love stories--sharing them and hearing them. I could read forever. Sitting in a kitchen with good friends and laughing, going to bed tired and happy after a long day outside--I think that's what makes things worthwhile. - Lily
Advocating for others. Teaching others and learning from others. Learning an obscure fact about food science, applying that fact and making a good meal that puts a smile on my loved one's faces. – Amanda M.
What other books and resources have you found that have empowered you or a loved one to have the best possible care? We'd love to hear from you on facebook or twitter!